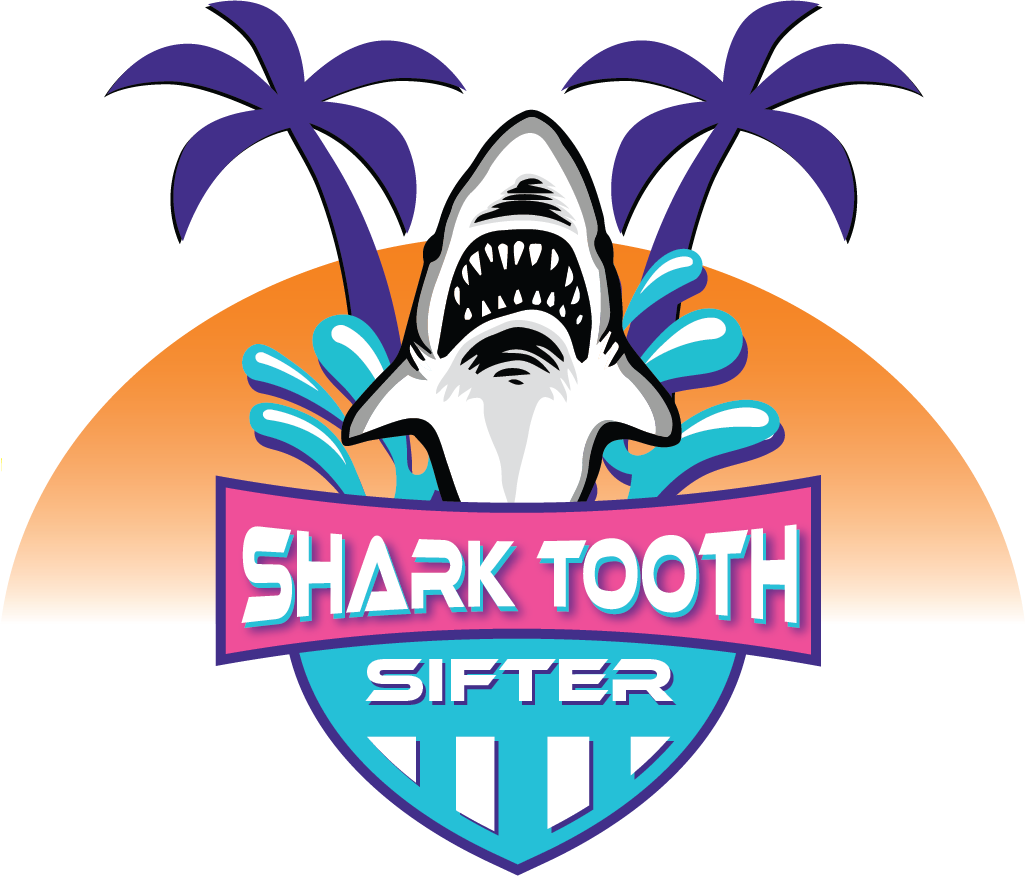 The Original Shark Tooth Sifter is a sifting device designed specifically for finding shark teeth. It can be used alone, or with a floating Shark Tooth Ocean Sifter. Browse our products online, or shop in-store in Venice, FL at Shark Frenzy and Fossil Frenzy!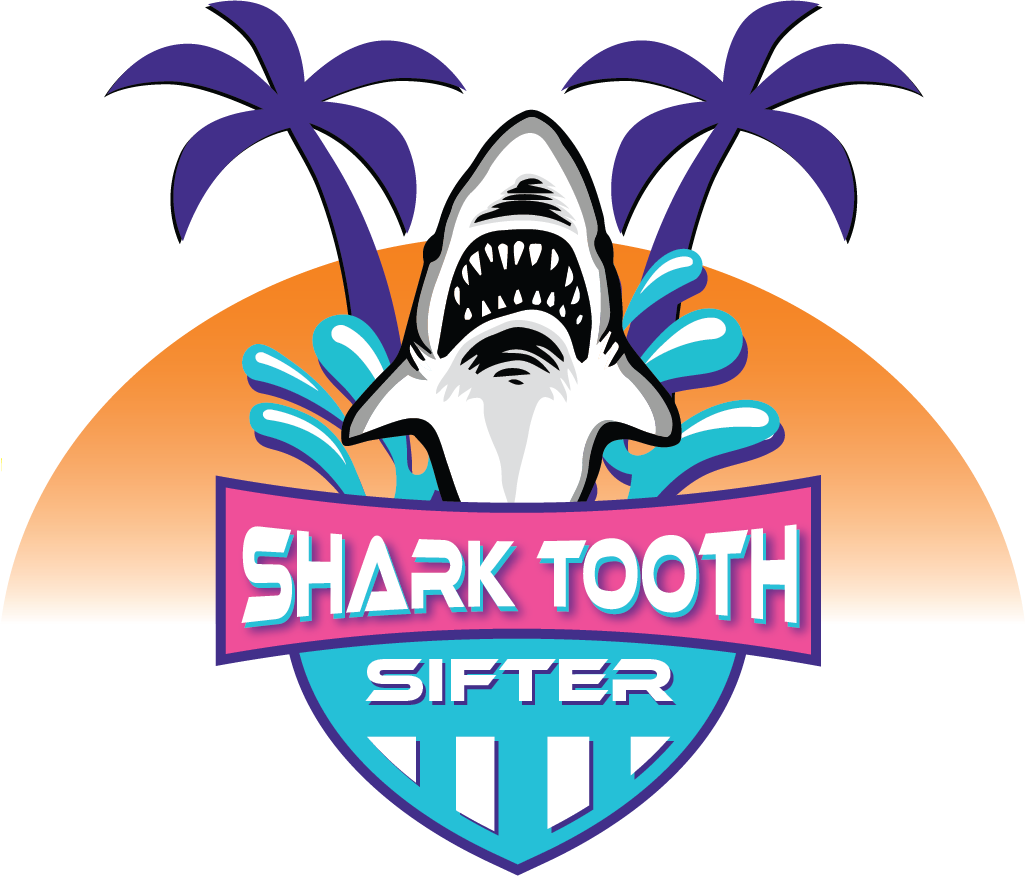 Shark Frenzy is our family-owned shop, located in the Shark Tooth Capital of the World (Venice, Florida). Our passion is helping others find fossils. Whether you're brand new to fossil hunting, or a seasoned pro, we want to help you find more sharks teeth! Stop by Shark Frenzy today and "Catch The Frenzy!"
Finding Shark's Teeth, Seashells, Sea Glass and Fossils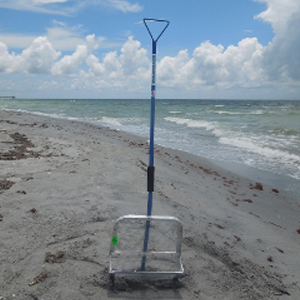 When Using the Shark Tooth Sifter...
Walk towards the ocean, and once you get into the water, look for a one-foot drop in the sand. This is commonly referred to as the Drop Zone. This is the area where ocean treasures most commonly get caught in.
When sifting in the Drop Zone, try to sift parallel to the shore, keeping the rake in the lowest part of the Drop Zone.
If you don't have much luck sifting in the Drop Zone, try heading out a little further into the ocean. This is especially useful during low tide when waves are minimal.
Try to look for darker sand to sift in. This sand usually contains a high density of fossils and shark teeth. Venice, Florida is known for its dark, fossil-rich sand.
Use a Snappy Buddy to carry your finds and prevent them from getting lost.
In my experience, the largest shark teeth I ever found were found during rough seas. If you do use a sifter under such conditions, be extremely careful. While it is true that rough seas bring in large finds, they also pose a dangerous threat to your safety.
Our special shark tooth sifting location is found at a latitude of +27.0622 and a longitude of -82.4463. To get to this location, you must walk. The nearest parking is about 1 and a half blocks away, however, this location should yield nice teeth. This location is north of Casperson Beach and south of Sharky's Pier, in Venice, Florida.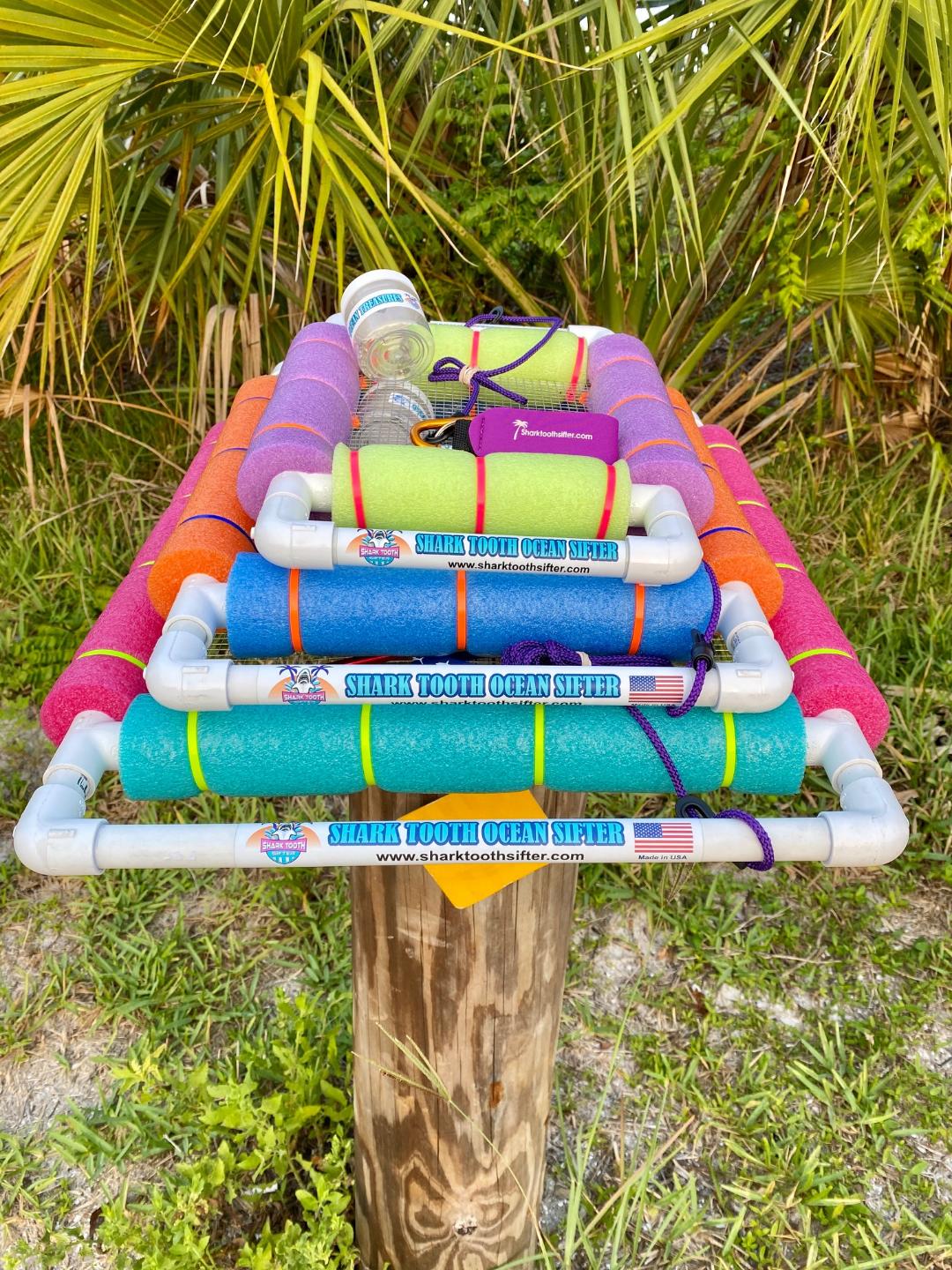 When Using the Shark Tooth Ocean Sifter...
It's best to have a Shark Tooth Sifter or a Sand Flea Rake to load the Ocean Sifter with material to be sifted through.
The Ocean Sifter is typically used in waist-deep water.
The handles on the Ocean Sifter aid in sifting more thoroughly, but it is important to not overload the sifter because there is a chance it may tip.
Often times, sifting in one area can yield good results. By digging in one spot, a hole is created and sometimes more teeth are found due to new layers of sand being uncovered.
The Ocean Sifter comes with a convenient bottle for storing finds. Remember to always put the cap on after putting finds in it. If you have large finds that do no fit in the bottle, it would be beneficial to purchase a "seashell collector mesh bag" to hold them. This special bag can be bought in Venice, Florida at Shark Frenzy.
There are many methods of finding ocean treasures, find the one that suits you best. Our products are enjoyable to use and can help you be a more successful ocean treasure hunter. Stay safe, and have fun!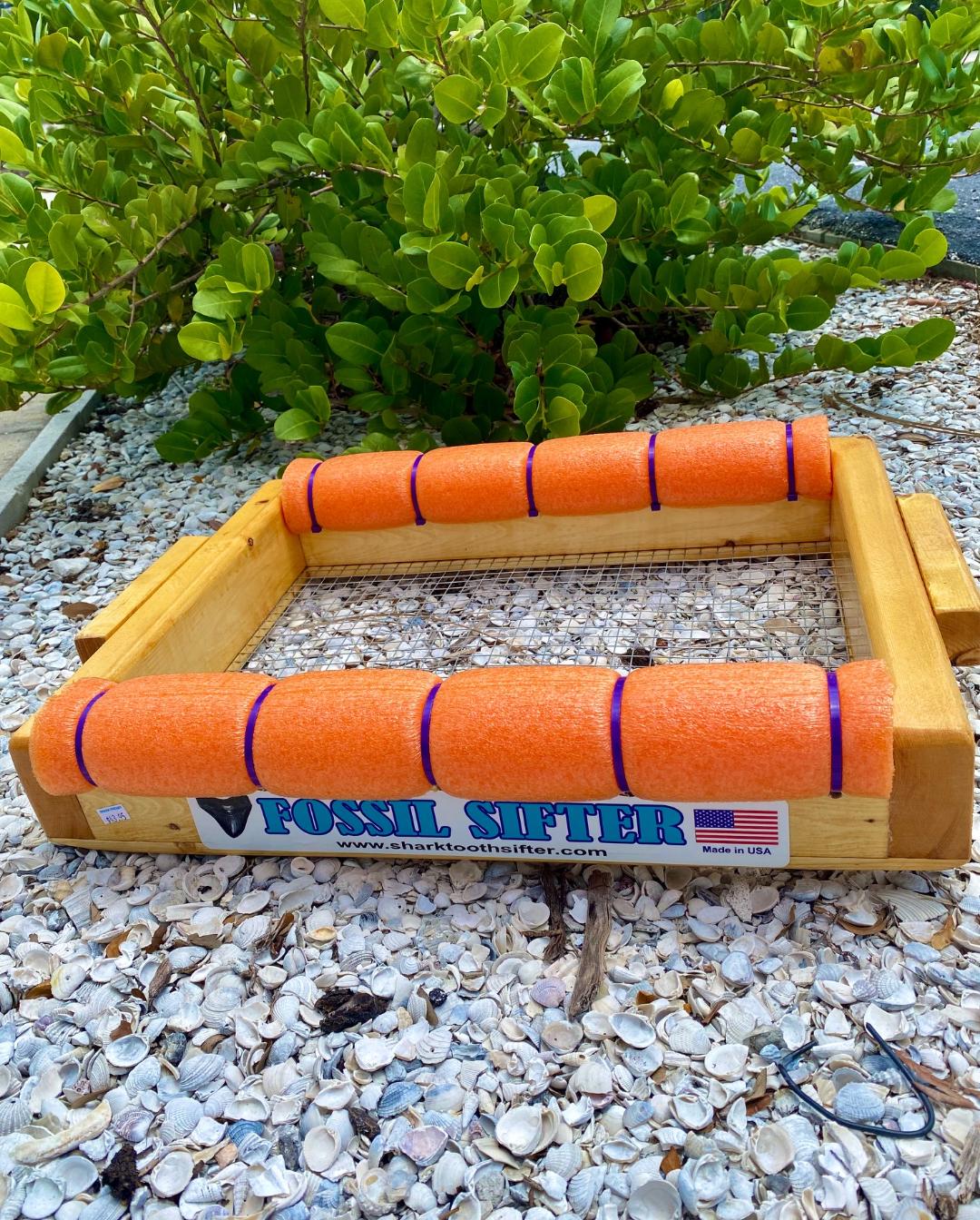 When Using the Fossil Sifter...
The Fossil Sifter is commonly used in rivers, streams and creeks. It is loaded with a shovel, and then sifted through.
Take out large rocks that are on the screen to clear the area to see smaller fossils.
Many times, fossils and teeth get caught in curves around rivers. These are ideal places to search for larger teeth. However,

never

dig into river banks! It is illegal and destroys the water path.
We recommend going on guided tours for river sifting. These tours bring you to special locations that are known to have very good fossil specimens.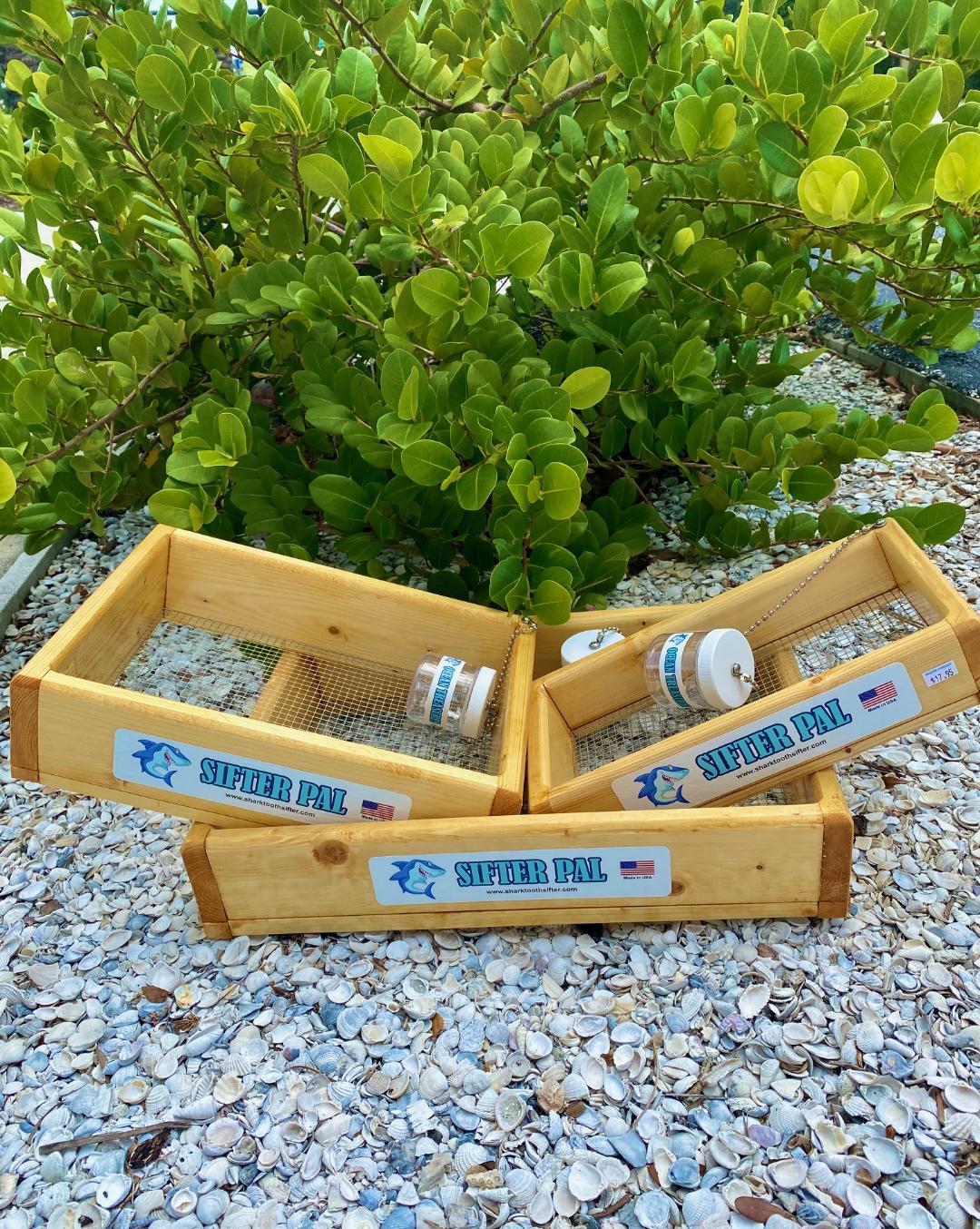 When Using the Sifter Pal...
Focus your sifting in the Drop Zone area as previously discussed.
The Sifter Pal is often used alone. It can be used to scoop up towards the shore in the Drop Zone and can float. Smaller shark teeth are often found with this sifter and it is often used by children.
When the ocean is rough, it can be difficult to use the Sifter Pal.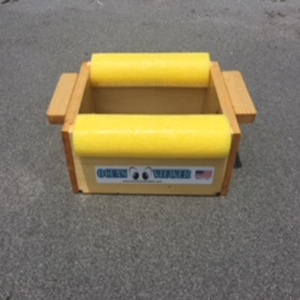 When Using the Ocean Viewer...
Vary your search area.  Usually larger shells can be found in deeper water, while shark's teeth and sea glass are found in more shallow water.
You can also admire ocean life, such as crabs and fish.  It's not uncommon to see these creatures as you hunt for ocean treasures. Don't worry, they won't harm you!  Just give them their respected space, you are in their home after all.
If you find yourself struggling to reach your treasures, try using a Beach Buddy.  It has an extendable handle that will allow you to scoop up your finds without having to go underwater.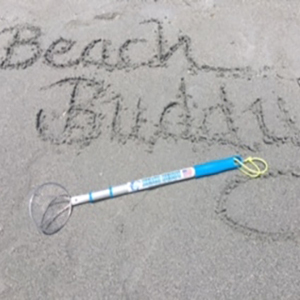 When Using the Beach Buddy...
Shell beds and where the waves break are the most common hiding places for shark's teeth, so scan them for flecks of black or brown.
Remember that the handle can extend, so adjust it to your perfect length.
Don't be afraid to look over shell beds twice, you may have missed something the first time!.
The Beach Buddy works great paired with our Ocean Viewer.  It allows you to scoop up finds under the water that may be hard to reach.
If you are looking for Seashells or Sea Glass . . . 
In Venice, Florida, most good shells can be found in deeper water and in clusters scattered on the beach.
By dragging the Shark Tooth Sifter along the bottom of the ocean in waist deep water, nice shells can be found.
Sea glass is often found on shore. Look for green, blue, brown and white while walking the beach, these are the most common colors of sea glass.
The best shells are found on Sanibel and Captiva Island. Rare shells, such as the prized Junonia, are found on the beaches of these islands.
Conch shells often have creatures that live within them. Inspect shells thoroughly for life before taking them home. Hermit Crabs hide deep within shells, so check especially for them.
Shell guides and Seashell Collector Mesh Bags are sold at many shops and will help with identification and storage.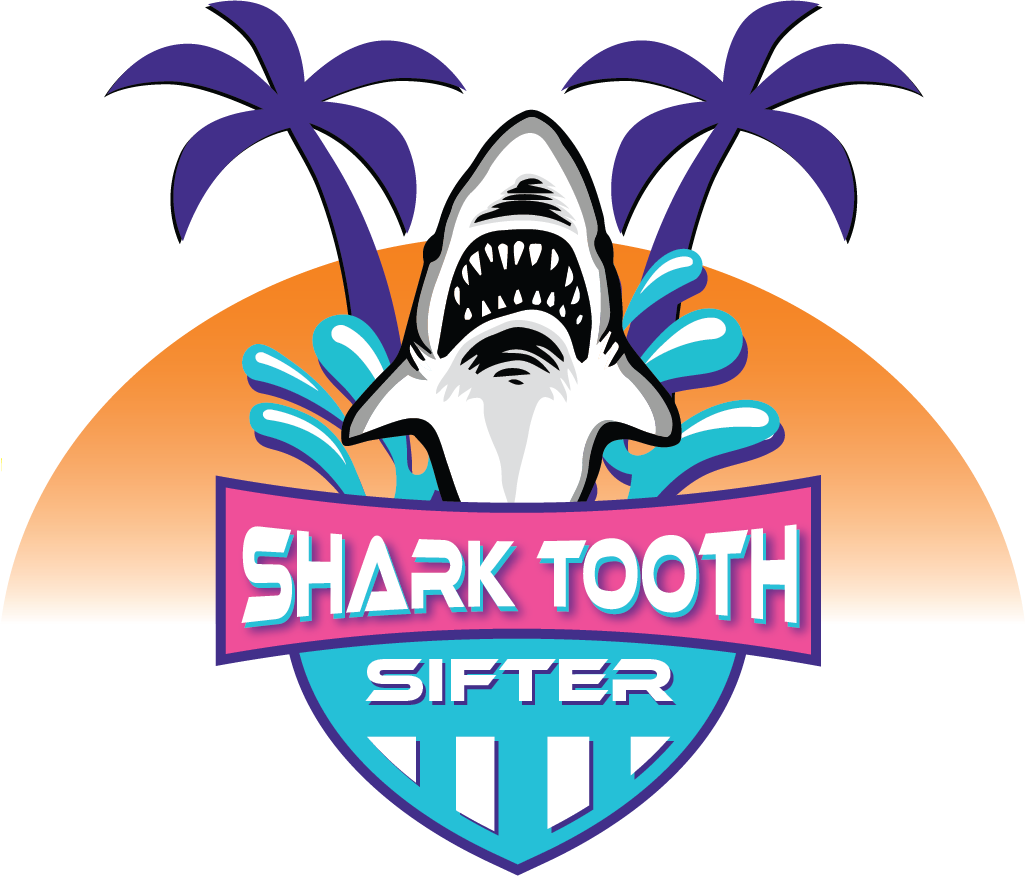 941.800.4281
www.sharktoothsifter.com
Shark Frenzy/Fossil Frenzy
262 Tamiami Trail S, Venice, FL 34285 | 272 Miami Ave W, Venice, FL 34285
Contact Us
More About Us
[powr-hit-counter id=70d4b123_1517693879]